7 Reasons Why F.R.I.E.N.D.S. is the BEST SHOW EVER!!
If you know the difference between friends and F.R.I.E.N.D.S. then you know what love means. What is a real friendship, what is it like to love and lose and fall in love with the same person all over again! You know that no matter how weird you are, still you will find people in your life who would love that weirdness of yours! And that is what F.R.I.E.N.D.S. has taught me. So, here I am with a small list of reasons why F.R.I.E.N.D.S. is the best show ever.
1. Clean Humor
F.R.I.E.N.D.S. has actually proved that you don't need to use slang or abuses to create humor. They have re-defined a situation comedy aka Sit-Com and that made it the 'Hot Favorite' of every generation.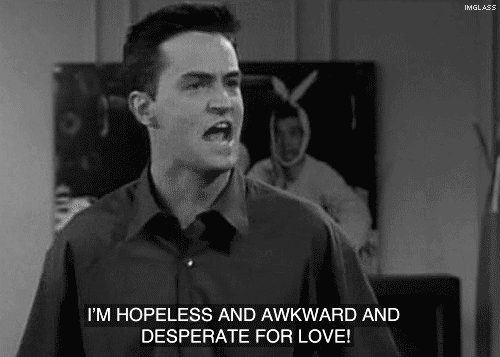 2. Relatable Characters
Only once in a blue moon you come across a show where you have related yourself with each of its character at different phases of life! F.R.I.E.N.D.S. has never portrayed any larger than life characters. They were just mango people and that's why even after 20 odd years, all of us has either a Joey, Chandler, Ross, Rachael, Monica or Phoebe in our group! 
3. Epic Casting
I don't think I can emphasize enough on this point. The stars were so perfectly casted that even after decades we know them by their character names only. I mean can you even imagine somebody else playing Joey? Or Chandler? Or any other character? I don't think so.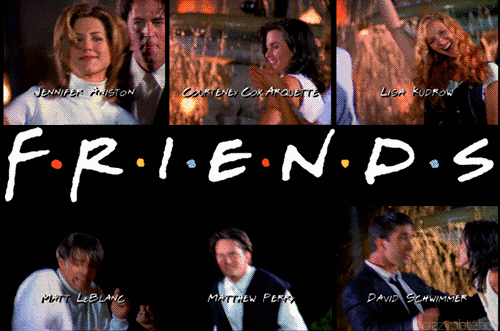 4. Made with Love, Served with Love
Love has always in the air on this show, be it love of friendship, love for sibling, love for food, love for sarcasm, love for dinosaur, love for smelly cat or else love for "OH MY GOD!!!"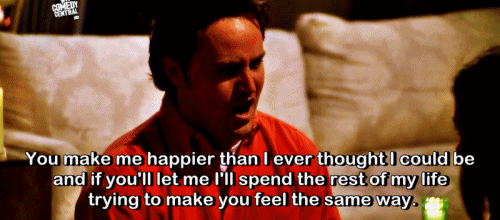 5. Simplicity is the Best Policy
The entire plot of F.R.I.E.N.D.S. has been very simple yet intriguing. They weren't on any quest; it was just a simple yet amazing yet very relatable tale of 6 friends which every teenager or a middle aged guy can still relate to.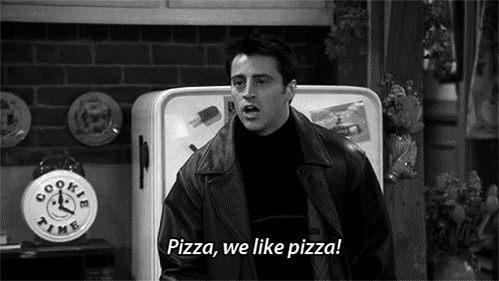 6. On and Off Screen Bonding
Not every cast has an amazing bonding as these guys had, even off the sets. That is one of the main reasons your heart goes out to them. They make us believe that FRIENDS is possible… Even on screen and off screen!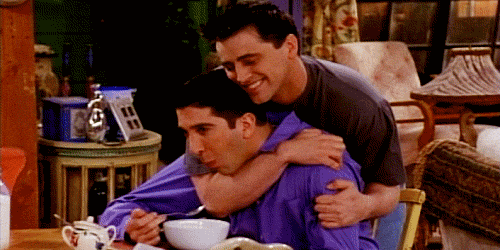 7. FRIENDS are still FRIENDS
Remember how you feel when your favorite celeb couple breaks off? Or your favorite band part their ways? Shattered, right? One of the major reasons why I feel that F.R.I.E.N.D.S. is still such a big hit among people because they make you feel "I'll be there for you!!"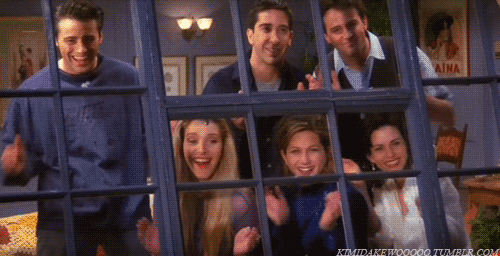 I don't think that anybody can list down enough reasons to love this show. Maybe because I don't think we can call it a show anymore. It's a CULT! Our love for them has reached to such a level now that we don't need any reasons to watch it. Whenever I personally feel blue, all I need is one episode of F.R.I.E.N.D.S and I know 'They will be there for me!' ☺ 
Keanu Reeves Returns with "The Matrix Resurrection"
The expectation of the unexpected fourth instalment of The Matrix Resurrections in the sci-fi establishment has started with another banner prodding the arrival of its first trailer.
The film Matrix 4 comes out 18-years after The Matrix Revolutions. It is planning to be the last film in a trilogy reporting the transformation of Computer programmer Thomas Anderson into cybercriminal Neo. As he finds the conventional world, he occupies a recreated reality.
Loosening up the expectation, with a special promotional. It highlights red and blue pills sit next to each other underneath the clear message: 'The Choice is yours.' Fans of the famous establishment will perceive the pills as a definitive choice given to Neo, played by Keanu Reeves, as he picks between life in the conflict assaulted real world or the 'beautiful prison' of a substitute reality. Penetrating static fills in as the scenery, as small strings of Matrix code has seen falling inside the pills before the whole scene liquefies.
Fans can proceed with their adventure on WhatIsTheMatrix.com, an intelligent pick your-own-experience style site. Given a similar decision there, red brings you down a rabbit hole where you're told: 'This is the moment for you to show us what's real.' Then scenes from the film teaser, showing the slight hindrance between the natural world and the fake world known as The Matrix. One of the Best Scenes is Reeves' Neo gulping a blue pill while a lot more seasoned, a balder man shows up in his appearance.
The scenes reviewed rely upon which pill selection and each emphasis on the decision made. The Red Pill requests that the watcher go further into the reality behind the Matrix. While the Blue Pill cautions them to avoid it again so as not to agitate the norm and welcome undesirable risk.
Still, the viewer's decision makes, in any case, every secret seems to end with a brief look at Keanu Reeves as Neo, with different eyes. He either collaborates with characters who could be his partners in the film or plans to fight against its expected scalawags, be they Agents, pernicious projects, or even people.
The person who clicks on the blue pill will hear Harris's voiceover saying: "You've lost your capacity to discern reality from fiction." Before encouraging the viewer to embrace that their situation is genuine. At the current time, streaks on the screen, and Harris peruses it, saying, "anything else is your mind playing tricks on you." By contrast, ones' who click on the red pill hear Abdul-Mateen's voice revealing to them that while they trust it's the current time — once more. With Abdul-Mateen perusing the time out loud — "that couldn't be further from the truth." Regardless, a progression of quick-cut shots from "Revivals" streaks on the screen during the two situations. As each time a viewer taps on a pill, the recording changes.
'This could be this is the first day of the rest of your life, but if you want it, you gotta fight for it.' The portrayal wraps while showing star Keanu Reeves prepared to battle. Then, at that point, finishing on a vile note, they show somebody contacting the PC port at the rear of their head and inquire: 'We don't want anyone to get hurt, do we?'
From visionary movie producer Lana Wachowski. The new film reunites unique stars Keanu Reeves and Carrie-Anne Moss as Neo and Trinity, the infamous roles they made well known.' The first Matrix film in 1999 met with much essential acclaim upon its introduction. The element is following up by two other movies, which were both delivered in 2003. Warner Bros. uncovered the title for the fourth Matrix film during its CinemaCon board. The Matrix Resurrections will release on December 22, 2021.
BTS Army Rents Billboards In Mumbai To Celebrate BTS Jungkook's Birthday
Golden Maknae BTS Jungkook will be celebrating his 24th birthday on September 1, 2021, as Army's all over the world prepare to wish him a happy birthday. Millions of fans have united to create thoughtful and extravagant birthday projects celebrating his birthday throughout the world. There's nothing that is going unturned by the Army to make Jungkook's day as special as possible.
With projects ranging from cruise ships to drones, Jungkook has exerted his influence across many fields. According to reports, his birthday ads will be played 1000 times on LED boards. Twitter is flooded with Happy Birthday Jungkook messages.
Obviously, India is part of the mix as well. India is set to get its first Jungkook bus shelter advertisement in Mulund, Mumbai. For the first time, India has seen such posters and this project on such a large scale in the country so far.
Jungkook's Indian fan base dedicated a billboard to him. According to a tweet posted by @Jungkook_INDIA, fans in Mumbai have rented a bus stop billboard in Mulund West, adorning it with pictures of Jungkook, also quoting, "You are the cause of my Euphoria." Bus Shelter advertisement also showed QR codes to Jungkook's solo hits such as Begin, Euphoria, My Time, and Still With You. Bus Shelter Advertisement will be displayed until September 4, 2021.
✨️𝗝𝗨𝗡𝗚𝗞𝗢𝗢𝗞 𝗕𝗜𝗥𝗧𝗛𝗗𝗔𝗬 𝗣𝗥𝗢𝗝𝗘𝗖𝗧 ✨️

Bus Shelter Billboard in Mumbai, India

LOCATION : Mulund West Mumbai India
DATE : 210829 – 210804 pic.twitter.com/oLvdD9vWPN

— JUNGKOOK INDIA 🇮🇳 | slow | (@Jungkook__INDIA) August 27, 2021
Upon being asked about the project, @Jungkook_INDIA replied, "We choose Mulund since it's in Mumbai, where it is easily accessible for more ARMYs to come and see the project. This is not the first time a foreign artist/K-pop idol on the billboard in India, another fandom already done that, but it is the first time for a bus shelter billboard. We did this to show our love and support, and we are glad if locals came to know more about BTS through the billboard".
This is just the tip of the iceberg. There are countless charity projects and other billboards that will mark the singer's 24th birthday. The Billboard project is another illustration of how K-pop's fan following in India is immensely growing.
BTS is a popular South Korean boy band and Jeon Jungkook is the youngest member of the band. There are seven members of the group — RM, Jin, Suga, Jhope, Jimin, V, and Jungkook. They enjoy a massive fan following internationally, India being no exception. BTS seems to connect with a massive number of people irrespective of their language because they talk about topics that many artists of today's generation may have failed to do. These seven young men talk about discrimination, gender equality, mental illness, loving oneself, etc. Their songs resonate with people belonging to any age and background. Moreover, they cover a wide variety of genres. The group debuted on June 13, 2013; despite all the odds against them, the BTS members each succeeded in their own way. Each member has their own unique personality and talents that make the group so great.
Journey of Raj Kundra: From IPL owner to Porn Movies Producer
Businessman Raj Kundra has hit the headlines after his arrest by the Mumbai police for having a connection in the production and distribution of pornographic content. Kundra has been involved in many controversies. Be it money laundering, drama from a first marriage or a criminal case from Poonam Pandey, he has had it all.
Going back to the beginning of Raj Kundra
Born in Ludhiana, he migrated to the United Kingdom in childhood. At the age of 18, he went to Dubai and then later to Nepal, where he started a shawl business. He later began selling shawls to fashion companies in Britain that lead to an increase in his fortunes. After entering the construction sector in Dubai, he developed connections in Bollywood and got into film production. He met Shilpa Shetty and married her.
Together they owned the Rajasthan Royals team in the Indian Premier League (IPL). But, this ownership didn't last for long as in 2013 came Kundra's major scandal for match-fixing. He was alleged to have a role in spot-fixing and was banned for a lifetime from IPL.
The current case involves Kundra in an adult film racket. Earlier this year, the Mumbai police had arrested a group of people for allegedly forcing women into porn movies. The group was targeting models and females who aspired to enter Bollywood. They forced these women to act in pornographic content on the pretext of giving them roles.
The movies were circulated on mobile apps, offering subscriptions along the lines of mainstream OTT platforms. They would then advertise on social media platforms to promote such content. Since pornography is illegal in India, this too was against the law.
The police then believed two aspects of this racket. One was catching those that produced these explicit adult content and those who circulated these tapes. Quite a bit of the production houses broadcasting such content was traced from servers outside the country. One such production house was sourced to a UK based organisation found uploading such content. The executive of that company, Umesh Kamat, was charged and arrested. It was then discovered that Kundra's alleged connection to Kamat and the company that uploaded such pornographic content brought him into the controversy.
After his arrest, Kundra was booked under various IPC sections. IPC 420 that deals with cheating and dishonestly inducing delivery of property. IPC 34 condemns acts done by several persons in furtherance of common intention. IPC 292 and 293, that's related to obscene and indecent advertisements and displays
Kundra might also face charges in accordance to the IT Act and the Indecent Representation of Women (Prohibition) Act.